Oxygen & Acetylene

We currently provide oxygen to the Belau National Hospital, and are able to deliver oxygen to individuals who may need refills for their tanks.

You can also visit our acetylene plant where we produce our own acetylene for companies or body shops that do welding jobs.
Visit us or contact us regarding deliveries of oxygen and acetylene.
Liquified Petroleum Gas (LPG)
We were the first suppliers of LPG in 1982 and continue to provide LPG to Palau's residents and commercial establishment. We provide free delivery of LPG tanks, as well as free installation for stoves.

Belau Garbage & Scrap Co.
We collect aluminum cans, aluminum, and copper scraps for recycling. We accept all aluminum material, as well ascopperwires types 1, 2, & 3. Once it has been compacted, they are sent off-island for recycling.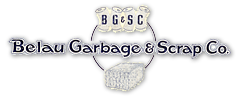 For more information on any of these services contact our main office and we will be glad to assist you.